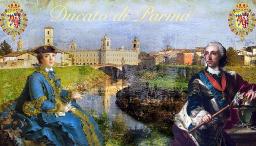 Sus Altezas Reales y Serenisimas los Duques don Filippo di Borbone-Parma y doña Luisa Elisabetta di Borbone desde la Reggia di Colorno intentan poner el tablero político y cultural europeo el Ducato di Parma, Piacenza e Guastalla.
Unete al proyecto de Roleplay Barroco basado en este pequeño estado italiano a mediados del siglo XVIII, nobles, burgueses, diplomáticos, militares, artistas, sirvientes... todos son bienvenidos en la Reggia. ¡Te esperamos!
c.2020 Proyecto Borbón.
Their Royal and Serene Highnesses the Dukes Filippo di Borbone-Parma and Luisa Elisabetta di Borbone from the Reggia di Colorno try to put the Ducato di Parma, Piacenza and Guastalla on the European political and cultural table.
Join the Baroque Roleplay project based on this small Italian state in the mid-18th century, nobles, bourgeois, diplomats, military, artists, servants ... all are welcome in the Reggia. We will wait for you!
c.2020 Borbón Project.