A year of peace - my wife's 'Venetian Garden'

2021-10-09
By: Abbondio Rezzonico
Posted in: Rezzonico Family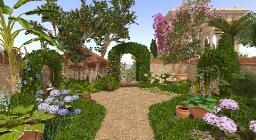 Now a year ago - - then after a tumultuous year of events ranging from our lovely pixel wedding, to the dark rl plague, and back to the rise and demise of an 18th century roleplay-project in which we were invested - - I started to secretly build my wife a place to hibernate, as winter was coming and rather depressing in prospects. I built her a garden in the Venetian tradition: Hidden from the outside by walls, but glorious and open on the inside, on various intertwined levels, with many corners and vistas, and a couple of buildings to decorate. The gift was a success (for once she was actually speechless...

) and for a year we were very happy to enjoy our little domain in private, and with family and friends.

After a year, it has now become time to reconsider and renovate. And so a new estate will be built this Autumn/Winter. But before demolition I had to document the gardens as they were, of all the gardens I ever designed I had never made something so Venetian and private as this one. I might keep elements in the new estate, but it will always be different. This was once. We enjoyed it. And now we move on.
The first five pictures I posted are the first in a series. They are five views on the Giardino del Bosso, or: Boxwood Garden), it was the main of the three upper gardens and named after the typical Italian gardens of country estates where the (boxwood) hedges create the shapes of borders and paths. They can be found in: The Venetian Garden (Flickr Album) )