By Lady Aphrodite Macbain, 2012-08-16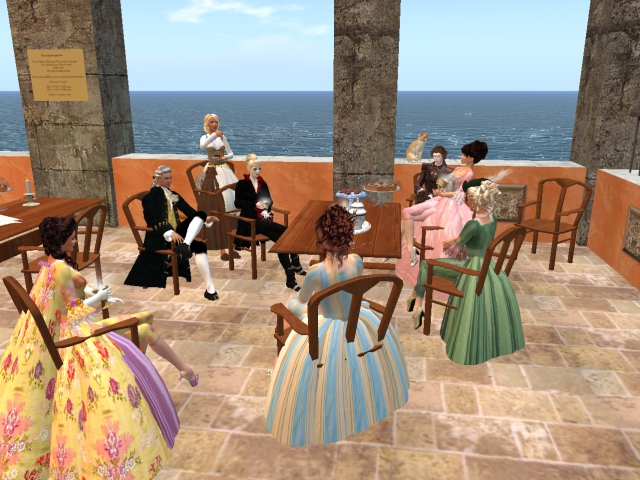 What a wonderful evening was spent at the Aphrodite Caffee in Melioria! It was in the form of a salon wherein we discussed chocolate--its history, ethics and economics within the context of the year 1781. Appropriately, hot chocolate, chocolate cake and truffles were served, making our hearts quicken and our minds become sharper. We discussed the possibility of growing cocao trees ( Theobroma cacao ) in Melioria and of making our own chocolate. The logistics of carrying out such a task (including growing seasons, soil conditions, shipping of the saplings) were discussed animatedly.
This will take time but considering the enthusiasm and support for the project, I am convinced it will happen. We were very anxious that slave labour would not be used for making Melioria chocolate so we also decided to make our own honey as sweetener rather than buying cane sugar from the Jamaican plantations. We now have our own official beekeeper and two hives have already been placed on our land. Bees have already been sighted in the orchard and in some of our balconies. We will discuss these enterprises further at our gathering this evening at Aphroditre's caffee in Melioria at 5pm slt. I hope we will get a fine turnout! There will be lots of chocolate cake and truffles left over from last night.
By Lady Aphrodite Macbain, 2012-07-08
This is an except from my talk I gave at the opening of the Botanical Illustration show.
This is the first time I have ever organized a group exhibition in SL so I really appreciate all the support I have received from everyone in Melioria, especially Candace Ducatillon (my partner in exhibiting), Serenek Timeless, who has helped me with all things promotional, technical and decorative, and Professore Aldo Stern who continues to kindly support all my initiatives on this lovely Mediterranean island.

The reproductions of botanical illustrations that are on display provide you with a very tiny sampling of the work that was produced in Europe in the 15th, 18th and 21st centuries. There are descriptive texts in the form of a note card embedded into each art work. Just click on each and you will get the biography of the artists who produced them.

Botanical illustration has a long tradition in both the arts and sciences and is currently enjoying a resurgence in popularity with artists and collectors. The earliest botanical illustrations date back thousands of years. One of the earliest practical uses of botanical illustration was for identifying plants with medicinal properties. Drawings were gathered in books called herbals and used by physicians in plant-based medicine.

Botanical drawings were also important in the age of discovery. European explorers returned from their voyages to far corners of the world with thousands of plant and seed samples. European landowners were then able to cultivate a wide new range of plants for their gardens, and some commissioned botanical artists to help catalogue, document and publish their burgeoning collections.

For the past two hundred years, the centre of plant science, conservation and botanical illustration has been the Royal Botanical Gardens at Kew, near London, England. Since their early eighteenth century origins, Kews gardens have spread to 300 acres and their living collection of plants is the largest in the world, with representatives of about one in eight plant species.

In North America, the hub for botanical illustrators is the Hunt Institute, part of the Carnegie Melon University in Pittsburgh, PA. The Hunts collection includes over 30,000 botanical illustrations, and it always has an interesting exhibition open to the public .

Nowadays, some botanical gardens around the world employ illustrators, but magazines tend to use photographs. Painters like me who are interested in botanical illustration are likely to be working on their own for pleasure. They may use a wider range of materials than their predecessors colour pencil and sumi ink have been added to the traditions of watercolour and pen and ink but the hallmarks of their work continue to be accuracy in form and colour and attention to detail.

I must draw your attention to Candaces beautiful photographs of plants growing here in Melioria, they expand upon and beautifully complement the illustrations .
Principato di Melioria, Villa Vesuviana, Westphalia (69, 183, 2801)
By Lady Aphrodite Macbain, 2015-01-27
AN EXCERPT FROM BEATRICE'S JOURNAL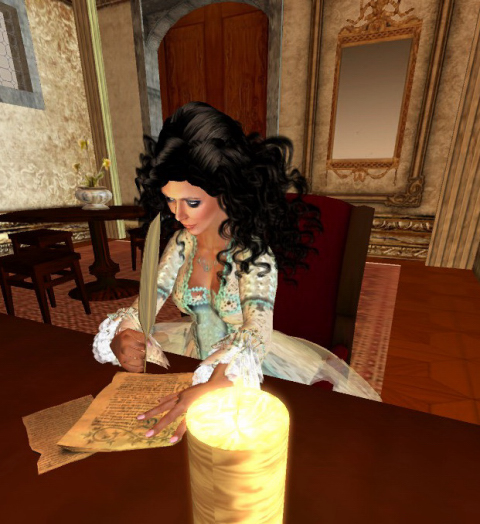 It has been ages since I picked up my pen to record in my journal; I have so much to write about that I'm not sure where to start. I've been living in Sorrentina for almost two years now and have an excellent job as secretary to Conte Foscari who works from his office in the Villa. Now I will be travelling again--on business but, I hope, for pleasure too. Today the Count, Hugo and I left Sorrentina and set sail for Provence!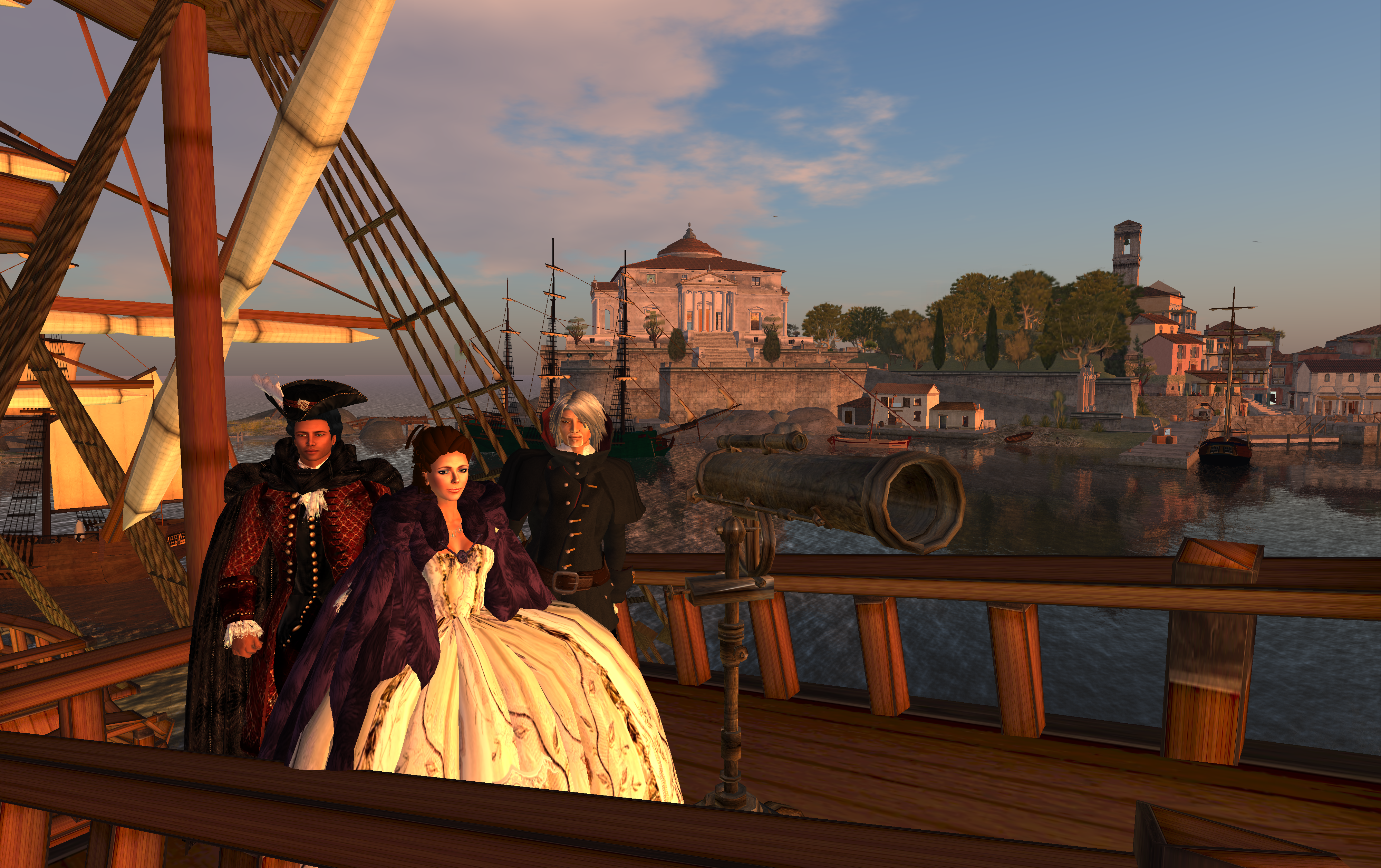 Hugo, Beatrice and Conte Frascari
Leaving Sorrentina
From Provence we will begin a long journey by carriage to Prussia. It will take us through central Europe - the mountain passes, forests and hillsides. We will be staying at inns and perhaps taverns, so I do hope we won't encounter any fleas or vermin. I will wrap myself in my velvet cloak when I sleep. I packed some clothes that I hope will keep me warm and dry in this miserable winter weather which I know will only get colder when we travel further north and into high altitudes. When she said goodbye, Elisabetta tearfully gave me a warm woolen scarf she had knitted for me that I will tie round my neck once we arrive in Marseille. I will miss my sister but I'm glad she is staying in the warmth and safety of Sorrentina.
I am joining a trading mission that was initiated by the Count, although I am not too clear what goods will be sold or bought. He is relying on my knowledge of French and German to help in his business transactions so I am bound to learn the details soon enough. Both men are very secretive about the nature of their mission. Hugo is joining us as a companion and also to do business. I'm so glad; he is such a gentle kind man. I will have interesting travelling companions.
We left Sorrentina as the sun was setting. It was a beautiful evening but one that turned into a violent storm, driving us indoors to the warmth of the cabin below. I was feeling quite seasick as a result of the violent movement of the ship but after resting for a bit and drinking some ginger tea, I began to recover. As the ship pitched and rolled, I began to think about the past as well as about the weeks ahead.
Only the Count knows about my past; I shared it with him during our first interview in Sorrentina- over a year ago. The time of my departure from Prussia was a painful one despite its pleasant beginnings. I grew up playing in the gardens of Sanssouci, Frederick the Great's summer palace in Prussia. When I was 18, I married Duke Vaclav Wolf von Mecklenberg, from a small Duchy north of Prussia. He had joined the army of Frederic the Great with whom he had a terrible falling out. The monarch of Prussia had begun to conquer half of Europe and became quite ruthless in his way of treating people, including his soldiers. My husband, always outspoken, became more and more critical of him, occasionally quite publicly. He made many enemies as a result of his outspokenness--enemies who, I fear may exist today. He was eventually stripped of his rank as Captain and ordered to leave the army. Disheartened and broken, his dreams of being part of united Europe destroyed, my dear Vaclav, filled with shame, abandoned me and the rest of his family and quietly left the country under the cover of darkness. I was informed, a few months later, that he died alone, of tuberculosis in a Viennese hospital run by nuns. We were never able to say goodbye to each other, a source of immense grief to me. I cant even say goodby to him now-he must be buried in an unmarked grave somewhere in the Austrian Alps.
I was heartbroken of course and wanted to leave this cursed country, so I moved to Austria with my sister Elisabetta. We lived a hand to mouth existence in Vienna, surviving off the sales of all my jewelry (except my mother's precious moonstone necklace she gave me on her deathbed.) Using the rest of our savings my sister was able to study at a convent where she learned the genteel arts of sewing, embroidery and petit point. We eventually made our way across the high mountain passes to finally arrive in Venezia where I made my living as many women did, as a courtesan. Later, with the help of Hugo, my sister and I escaped to the haven of Sorrentina.
And now I am returning to the land which gave me so much pain. I will have to place my trust in God, my friends and my wit.