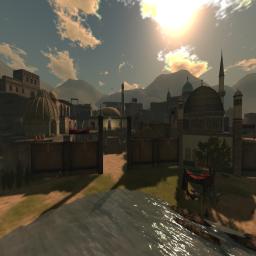 Wednesday October 17 2018, 1:00 PM
@ http://maps.secondlife.com/secondlife/Larl%20Valley/134/1...
CANCELED DUE TO TECHNICAL DIFFICULTIES
--------------
Come one, come all!
Larl Valley welcomes the court of King Hassan ibn Trrrol of the independent kingdom of Kalahari. Festivities include:
a state dinner
18th century fashion show
a desert expedition? (tentative)
build contest? (tentative; best/most authentic period dish?)
Events to begin at approximately 1 P.M. SLT. Food and lodging provided. Notecard SirCharlesMormont Resident with the size of your expected family and retinue.
OOC Note:
I'm still looking for volunteers to participate. Lots of ways to help! Donate prizes for the fashion show. Offer to dance, play music, or otherwise entertain. Compete in the fashion show. Be a dinner guest. Serve during the meal. 
Then, on the 19th, we're invited to visit Kalahari!