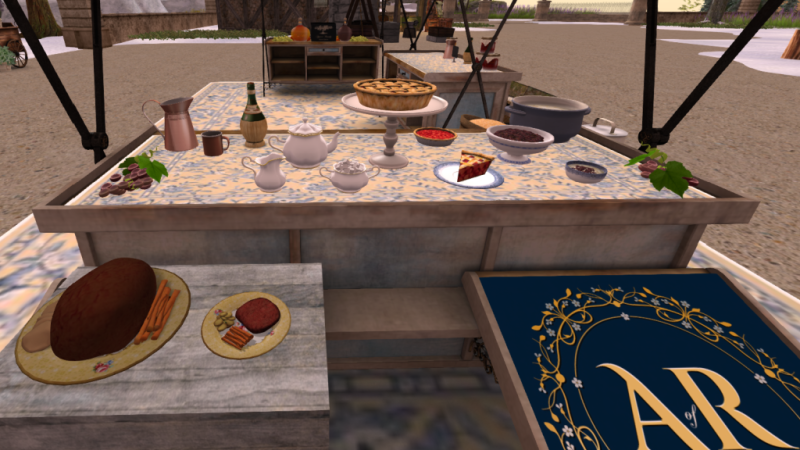 Happy Holidays!
As we find ourselves in the thick of the holiday season here are a few new AoR developments to help make our celebrations a bit brighter.
Roast Beef Dinner
Just in time for holiday gatherings, a roast beef dinner is now available.  It may be purchased directly from Myriam or cooked in the brand-new cast iron roaster.  See Recipes for a list of required ingredients.
Many thanks to Beckka for creating the custom meshes for this fabulous feast.
Vineyard
The AoR vineyard project is coming together nicely keeping our community vintners busy growing new grapes and testing the various harvesters & crafters involved.
Red grape juice, which provides a nice boost of energy, is now available as are red grapes, an important ingredient for raisins.
Abbondio has embarked on a wonderful research project providing us with lists of grapes & wines that are not only specific to the 18th century but also to our various locations.  This wealth of information is being used to customize our production allowing each geographic area to have their own special wines.
As a result, the Queen's Hamlet, located in Provence, is proud to present the its very first table wine, Dureza.  It gives a nice little boost to your Social but don't drink too much as your Health may be adversely affected. 
More information regarding the vineyards will be forthcoming.
Taste What's New
Samples of all the new drinks and meals are available in the QH Market for your viewing and tasting pleasure.  Plans are in the works for at least one new AoR holiday dessert and we'll keep you posted on the release.
Ice Skating on the QH Pond
Anxious ice-skaters will be glad to hear that the QH Pond has finally frozen over and is safe for skating.  No skates?  No problem!  Free skates are available in the kiosks at the site.  We'll have to see about arranging a skating party some time during the holidays
Cheers!
Tat
--
Proprietress of Tatiana's Tea Room ~ Owner of the Provence Coeur Estate ~ Webmistress of this site