Inspired by William Hogarth (* 10. November 1697 in London ; 26. Oktober 1764 )
Written by Jean-Matisse & Alessandra de Fiorentino Conti
Chapter II
" The Arrival of Grandmere"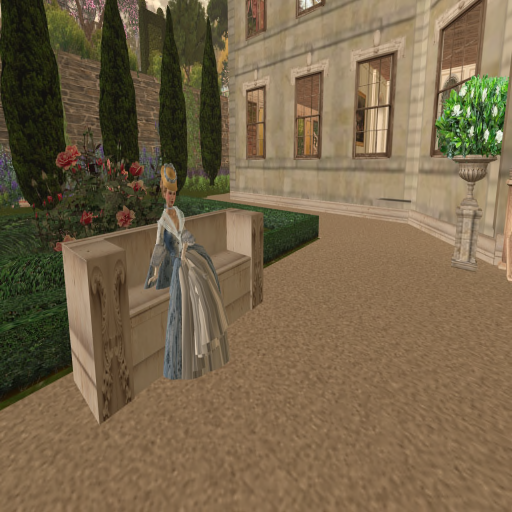 A few days later, Duchesse Alessandra sat down on one of the stonebenches in the park and wanted to start reading a book. She heard one of the grooms yell There is a coach.....a coach is comming ! Immediately the young Duchesse returned to the Chateau and called her Chambermaid Alice. A guest is arriving....that is certainly Grandmere......Hurry!
Only a few minutes later the women stood at the entrance at the stairs to welcome the arriving guest. They didn t need to wait long. Suddenly the shouting of the coachman and the patter of the horses was heard. The coach arrived quicklyand stopped with a squeaking noise in front of the entrance.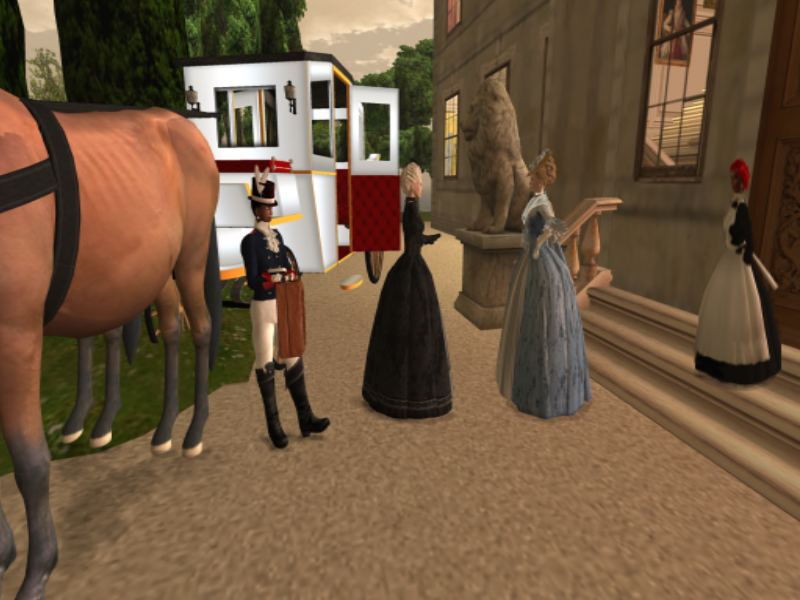 The coachmen jumped down from the wagon seat, opened the coach door and helped the old Lady . Like the Duchesse expected, her Grandmother was wearing a black and very elegant silk gown.Despite her advanced age she was still an authoritative Person.Comtesse Jeanne-Adelaide de Conti hugged her Granddaughter and kissed her on the cheeks.
Finally I am here my child....Thank god the journey was without any incidents!I am very glad you are here Grandmere! Said the Duchesse and looked around searchingly Wouldn t you bring your little servant with you ? Jean , come and greet my granddaughter! A little Moor dressed as a coachman jumped out of the coach, carying grandmeres bible and a suitcase. He took a deep and respectfully bow in front of the duchesse.Awe...that is so cute, what a charming young man...Indeed....he is a little precious person. He read to me the whole journey from the bible, didnt you Jean ?Oui Madame, am I allowed to read again later ? Certainly my precious ! said the old Lady with a smile and patted his cheek. He was the servant of my dear Friend, the Abbess of the Couvent des Rcollets in Metz......may she rest in peace.... Her last will was, that he shall belong to my household....But let us go inside , I want to change and refresh myself. The little Moor tugged at Grandmeres sleeveShouldn t we go and pray and thank for the good journey, Madame? You are absolutely right, Jean...Please show us the chapel here at your chateau Alessandra!The young Duchesse seemed a bit irritated and embarrased Oh Grandmere, I have to admitt.... there is no Chapel at the chateau...I am terribly sorry! The old Lady raised an eyebrow and Jean shaked his head in disbelieve. hmmm... I see said Grandmere with a firm voice We need to change a lot of things here....fortunately I have my prie-dieu with me. Jean will find a suitable place for it later..... Avec plaisir , Madame la Grandmere
The Chambermaid Alice showed the noble guests to their rooms. Alessandra noticed that the little Moor , with a big grin, rewinded Alices apron strings at the stairs.Such a little Rascal! the Duchesse thoughtThat can be a very interesting Visit.....oh oh