By Conte Luca Vendramin, 2019-06-06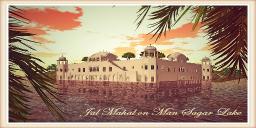 19, Jyeshtha 1786 V.S.
It is an auspicious day today for the nephew of the Maharaja Sawai, Rajkumar Jagat Singh, arrives in the city of Jaipur to study statecraft from his illustrious uncle, the Maharaja of Jaipur. Upon his arrival in the city, the rajkumar is greeted by Rajkumar Madho at the Kale Hanuman Ji Temple to make offerings and to pray for the favor of his uncle, the Maharaja. 
As the god Surya ascends to his zenith in the heavens, the Rajkumar of Mewar is escorted on his palanquin to the shores of the Man Sagar Lake to board a barge for the floating palace.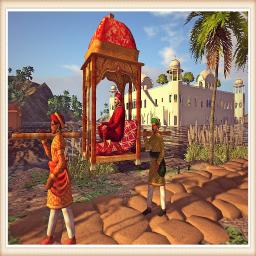 The palace is busy with slaves and servants running up and down the corridors from room to room in preparation for the arrival of the Rajkumar of Mewar.  Most important, his Aunt, the Maharani Surya, is seen ordering the servants about with trays of exotic foods and baskets of rose petals. 
As Rajkumar Jagat ascends the steps, Maharani Surya is the first person he sees, standing ready to greet her cherished nephew whom she had not seen since she first left Mewar for Jaipur. They embrace and kiss, though her jewels and pearls get in the way.  As though rehearsed, the slaves come forward in unison and begin to fling rose petals before the two princes' feet.
Maharani Surya smiles and kisses his forehead before leaving him as Maharani Ranawat calls to her to escort her to the zenana. Rajkumar Madho escorts his cousin through the halls and rooms until they reach the stairs to the rooftop garden where the Maharaja Sawai sits surrounded by his diwans and thakurs.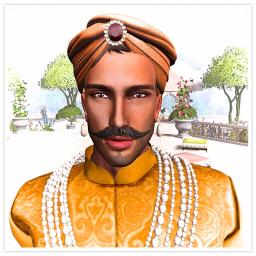 "Welcome, my nephew. Jaipur greets you with open arms. You will follow in my footsteps where ever I go that you may learn the skills to being a powerful raja."