Inspired by William Hogarth (* 10. November 1697 in London ; 26. Oktober 1764 )Written by Jean-Matisse & Alessandra de Fiorentino Conti
Chapter III "Firm The Faith"
Alice came crying into the Salon, curtsied in front of the young Duchesse an began to speak "I am terribly sorry your grace, but what shall I do.....?" "What has happened Alice?" asked the Duchesse a bit worried. "This little rascal has opened my Apron bow four times...." she moaned"... and Mme la Grandmere always rebukes me about my sloppy look!"" Do not worry Alice..." the Duchesse smiled" I already noticed that on the stairs one time....I will talk to Mme la Comtesse....my Grandmother should not tolerate such behaviour..."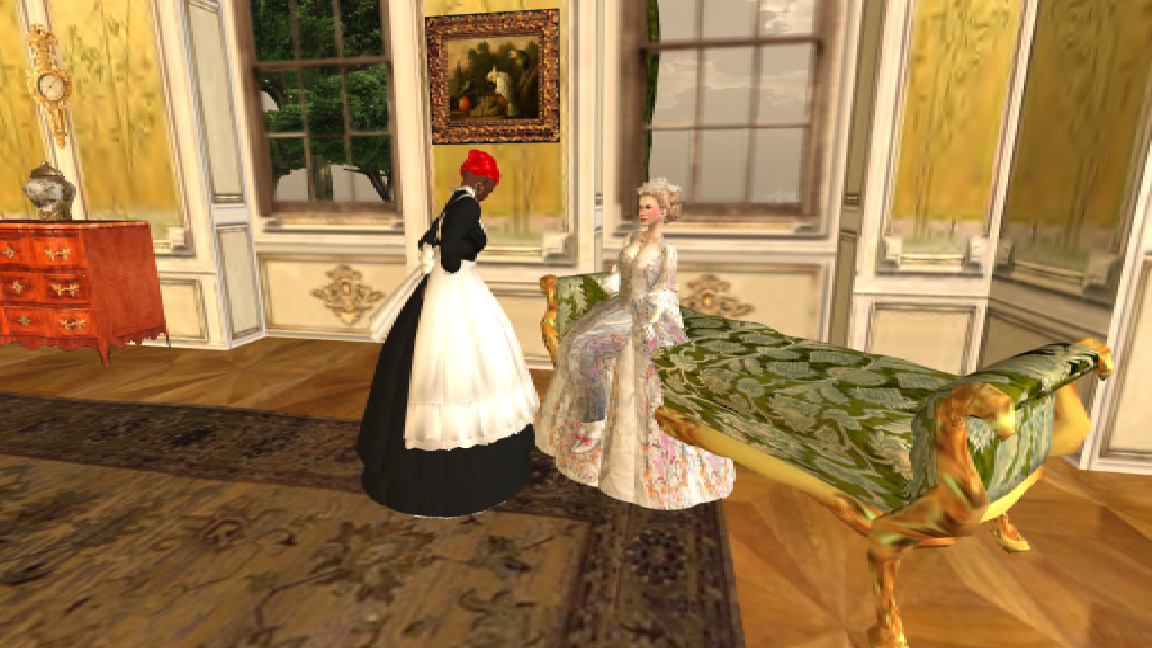 A few minutes later Grandmere and Jean came down the stairs. Alessandra awaited them already downstairs "Chere Grandmere.....could I talk to you for a moment ?....I will not tolerate the behaviour of your little servant Jean....I do not want him to play pranks with my chambermaid Alice!" She looked strict at Jean and said " You do know what I am talking about Jean.....the apron bow, don 't you ?"
"My dear Child,that is absolutely incredible..." indignanted Mme la Grandmere" ...MY little precious would never play pranks...Would you Jean ?""Oh Mme la Comtesse...I do hope you do not believe such a thing!" with wide opened and innocent eyes he looked at Grandmere.She helped him to sit on a little table and petted his head. "Certainly I do not believe such a thing, my little angel!" said the Grandmother , opened a little golden box and stuck some candy in the little Moors mouth."Merci bien , Madame la Comtesse, I will pray for you. I thank our dear Lord that he showed me the mercy for bringing me to you!" "Awe...There you see Alessandra, that little angel could not lie!"
The young Duchesse smiled wryly....it had no use to talk with Grandmere about that. The little boy seemed to have wraped her grandmother around a finger. It was obvious...allone the precious clothing she dressed him with....She always knew her Grandmother as a bit stingy.
"May I go a bit in the garden , Mme la Comtesse?" "Oh mon Dieu! You will get dirty my precious! We will have a look later ...." "As you wish dear Mme...."answered the little Moor with a big smile. Duchesse Alessandra rolled her eyes.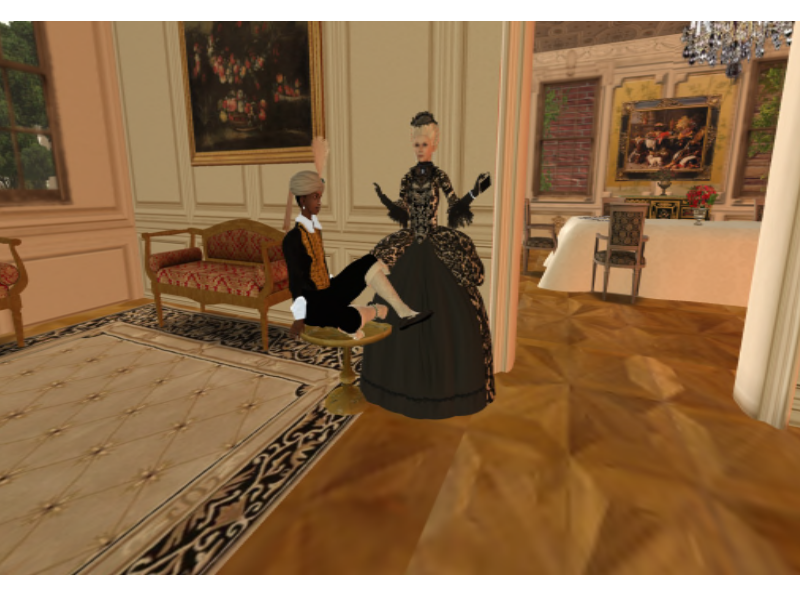 "But Alessandra...it occured to me that I am in a impious Household!" determined the Grandmother "I do hope that also your servants will follow us to the praying hour!" Little Jean noded. "I would love to join you for praying...aswell as Alice....but I have to talk to you in another serious matter.....I have met a very fine Gentleman.... He is also introduced at court!"
"hmmmm Is it so?" Mme la Grandmere raised an eyebrow " My little Granddaughter gets wise?....The Marriage is a sacred state for a man and woman ..... What Court is he introduced to?"
"At the court of Versailles...."
"Oh mon Dieu!..." gasps the grandmother " Versailles.....the anteroom of Hell....The snakepit !!"Jean made the sign of the cross.
"I have already invited him Grandmere.....he will be here tomorrow...I think you will like him !" said the young Duchesse with a firm voice.
"We will see...ma chere.....we will see!" Jean noded "Indeed , Mme la Comtesse....indeed"