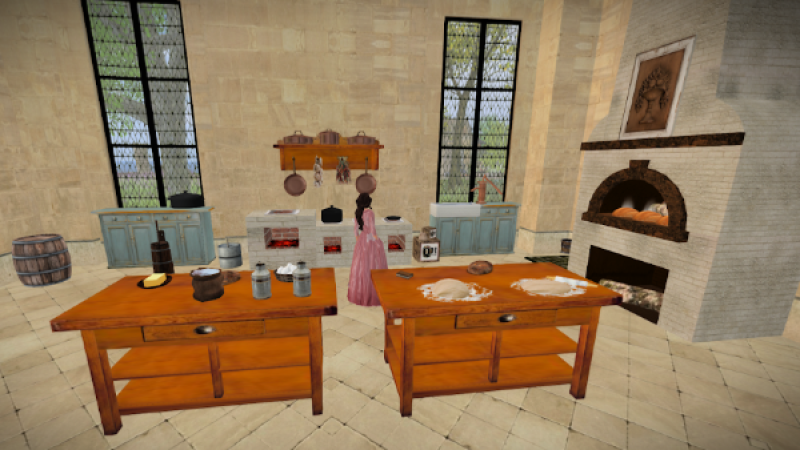 I'm excited to announce the opening of our QH Farm Kitchen for use with the AES.  It's a great place for QH Workers to earn some extra coins and gain some extra experience using food from the QH Co-op.  Please note that everything created in this kitchen will go back to the QH Household Inventory so if you're looking to make your own meal use the QH Garden Kitchen  where there are three stoves available for private use
Equipment:
QH Kitchen Server: Filled by Anastasia it replenishes the Harvest Tables.
Harvest Tables: Display ingredients waiting to be processed
Butter Churn: Uses Milk to produce Butter
Mill: Uses Wheat to produce Flour
Stoves: Currently three are available to cook the ingredients
Household Inventory: Please contact Tatiana before using this inventory
Well: Gather water
Water Plank (Auto feeder G&S): Quickly provides water buckets.  Can be refilled by anyone in the group so please replace what you have used.
Pots: Cast iron roaster, pot, and skillet are free to use in the recipes.  Please contact Tatiana if you use one up and it has to be replaced.  Let's leave the copper ones as display since they're so pretty.
Ingredients:
Wheat: To produce Flour
Milk: To produce Butter
Goat Milk: To produce Goat Cheese
Flour: To produce Bread
Bread: To eat and keep up your strength
Eggs & Butter: TBD
Other ingredients to be added on an as needed basis
If you stand approximately in the middle of the two harvest tables as I'm doing in the picture you can reach pretty much everything you need.  
I'll try to keep the Harvest Tables replenished as our harvests are made.  Check back to see what's available on any give day.
Have fun!
Tat
--
Proprietress of Tatiana's Tea Room ~ Owner of the Provence Coeur Estate ~ Webmistress of this site

updated by @tatiana-dokuchic: 30 Aug 2019 01:53:22PM