Duché de Coeur - RP Healers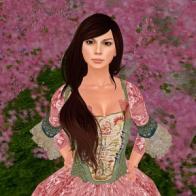 27 May 2010 06:36:51AM
@tatiana-dokuchic
Feeling a bit tired or run down? Health not what it should be?
There are a number of Healers in the Duch de Coeur who would be happy to get you back into shape.They arelisted here so that you can contact them directly.
Any healers that would like to be addedplease contact me. A short biography (one of two lines) focusing on your healing powers might be fun to include as well.
Duch de Coeur Healers (alphabetically) :
Eleas LeRoux (Eli Zephaniah): a medical student, apothecary, and herbalist in the Du Coeur sims, a member of the petit bourgeoisie. Originally from Tours, studied abroad and worked at a hospital in Geneva before returning to France. I work with Dr. Pekel occasionally, certainly value his superior experience as a surgeon. I have a small apothecary shop in the catacombs at Languedoc from which I dispense cures and medical advice. Current Medical Skill: 1.
Helena Loudon and Joshua Swordthain : As descendants of both Gypsies and Carpathians, Helena and Joshua were trained from an early age in the uses of healing energies in the forms of herbals and of gems and crystals. Helena can prepare amulets and healing stones customized to your needs, and is also available by appointment for scrying sessions with a crystal ball or with Galadriel's Pool. Her current skill level is Mystic 2. Joshua is skilled in preparation of healing potions, especially useful in recovery from The Plague. These are available by appointment at his office at the Science Academy, or the Gypsy Camp, and at the monthly Coeur Fairs.
Current skill levels: Medical 2, Crafter 4, Poison 4.
MariaLouisa Muircastle : Having been thrown into the fire and became educated in the school of hard knocks, the strong stomached Maria became a competent emergency aid (having even assisted in a few amputations). Shipboard living can be so hard...even in peaceful times... Current Medical Skill: 4.
Pekel Panacek : Being a war surgeon who served during the Seven Year War,I have a long experience regarding surgery. Especially wound healing, teeth extraction, fixing of broken arms and legs and even limb amputations. Of courseI also know something about herbal medicine andI am an exceptional good listener regarding matters of the mind and heart. Current Medical Skill: 4 .
TatianaDokuchic Varriale : Descended from a long line of wise women, has a very good knowledge of herbs and folk remedies. Available for the occasional consultation. Current Medical Skill: 4