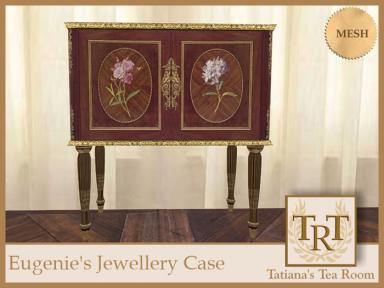 UPDATED TO MESH - October 2021 - Same beautiful furniture with much lower land impact!
This exquisitely detailed jewellery case was designed circa 1855 for Eugénie, last Empress consort of France. The Empress, as you can imagine, had an extensive collection of breathtaking jewellery and this case was the perfect place to store some of it!
In a wonderful example of marquetry, delicate flowers are brought to life with inlaid porcelain & violet wood on a mahogany case. Bronze gilt cherubs provide additional decoration.
The two front doors open to reveal the various sized drawers.
This luxurious piece is equally at home in an old world chateau or modern apartment.
See it inworld at the  Petit Trianon or see the SLM listing.


================
I'm delighted to be offering this updated version of Eugenie's Jewellery Case.  Besides reducing the land impact (it's now just 2) I've also made the switch from "Modify/Transfer" to "Modify/Copy" so you can now use it as many times as you please.
For those of you that have an older version purchased inworld, send it to me and I'll give you the updated mesh version.  For those of you that have an older version purchased via the SLM you can now get an automatic update.
Cheers!
Tat
--
Proprietress of Tatiana's Tea Room ~ Owner of the Provence Coeur Estate ~ Webmistress of this site

updated by @tatiana-dokuchic: 28 Oct 2021 09:03:29AM