Welcome to the Kingdom of Florin
---
For those who seek an immersive experience into Baroque and Ancien Regime of France time period, Kingdom of Florin is the place to be.
You will evolve in this universe at your own pace and learn the ways of the past while enjoying the basic of Role-Playing-Game.
You will earn money and progress through the Florin HUD and METER built explicitly for the game. From the money you earn, you will be able to purchase most of what you need to play, from clothing to furnitures. Since this is based on France but remain a Fictionnal Universe you should read it's story to be able to know what is this country and to get some basics of the universe you are jumping in.
For new Role-Players a guide is provided in the forum too.
Follow the 5 easy steps to get ready to play from the Welcome Center. (World's link)
*** Visit our official NEW WEBSITE ***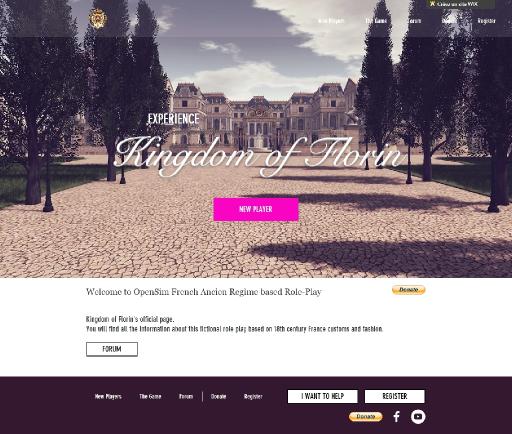 You can promote and participate
Be part of this great adventure and make it grow even bigger. Look and share our website :
Follow us on Youtube Channel
and Facebook
Remember the Role Play is not yet open and the sim is still under construction.