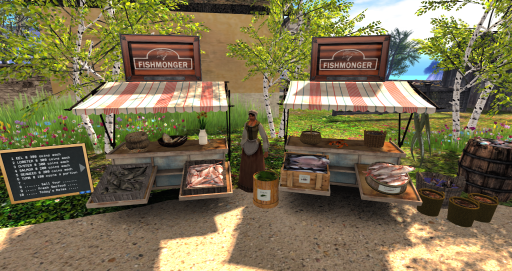 There's a new Fishmonger (Fishwife) in town and she's been busy setting up her seafood stalls in the QH Market !
She's also working on a simple system for people to sell fresh seafood directly to the QH Co-op.  No more baskets, salting, or packing, just the fun of fishing with some coins earned for your effort.  Here's how:
Pick up a free Fresh Seafood Sales Kit from the Fishmonger stall.  It contains the "QH Fresh Seafood Dropbox" and an information card.
Check out the "Fresh Seafood Today's Rates" board to see what the Fishmonger is currently purchasing along with the current rates.
Deposit individual pieces of seafood into a "QH Fresh Seafood Dropbox" to get a count for each type of seafood.
Record your counts in the Units column on the "QH Fresh Seafood Invoice" found in the dropbox.  The Fishmonger is happy to calculate your Total $s for you (he/she cheats and uses an Excel spreadsheet) or you can do the figuring yourself and enter them as well. 
Remember that Tuna is tricky!  You have to rezz each one and see how many PORTIONS there are per tuna.  Use the total number of portions for your Units.
Save your updated Invoice notecard.  Keep a copy for your records and leave another copy in the dropbox.
Send your dropbox to Tatiana who will approve the invoice and make arranges for you to receive your coins.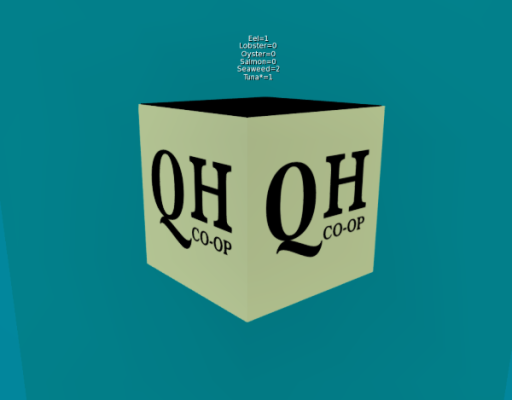 Please ensure that the seafood has at least TWO FULL DAYS before it expires.  You can check with Tatiana to ensure that the Fishmonger is available to do the processing in the allowed time frame.  Do not included packed and/or salted seafood.  This may be sold by QH Members from vendors in our Market.
Large sales could potentially blow the QH Co-op budget so please contact Tatiana if the value of your catch exceeds 20,000 coins.
The dropbox can also be used to store your seafood.  Touch the box to rezz the next object in alphabetical order.
Happy Fishing!
--
Proprietress of Tatiana's Tea Room ~ Owner of the Provence Coeur Estate ~ Webmistress of this site

updated by @tatiana-dokuchic: 25 Mar 2019 10:41:32AM