[This post was originally only to let everyone know we had launched the Regency-era literary society, "Foray." But at our second meeting we decided this forum would be a great place to keep track of what we're doing and planning. ]
Today Foray had its first meeting and I can tell it's going to be a ton of fun. Join us. We have crumpets. You can catch up quickly on what went down at the first meeting, in the notes below this pretty graphic. (Ackermann I L U)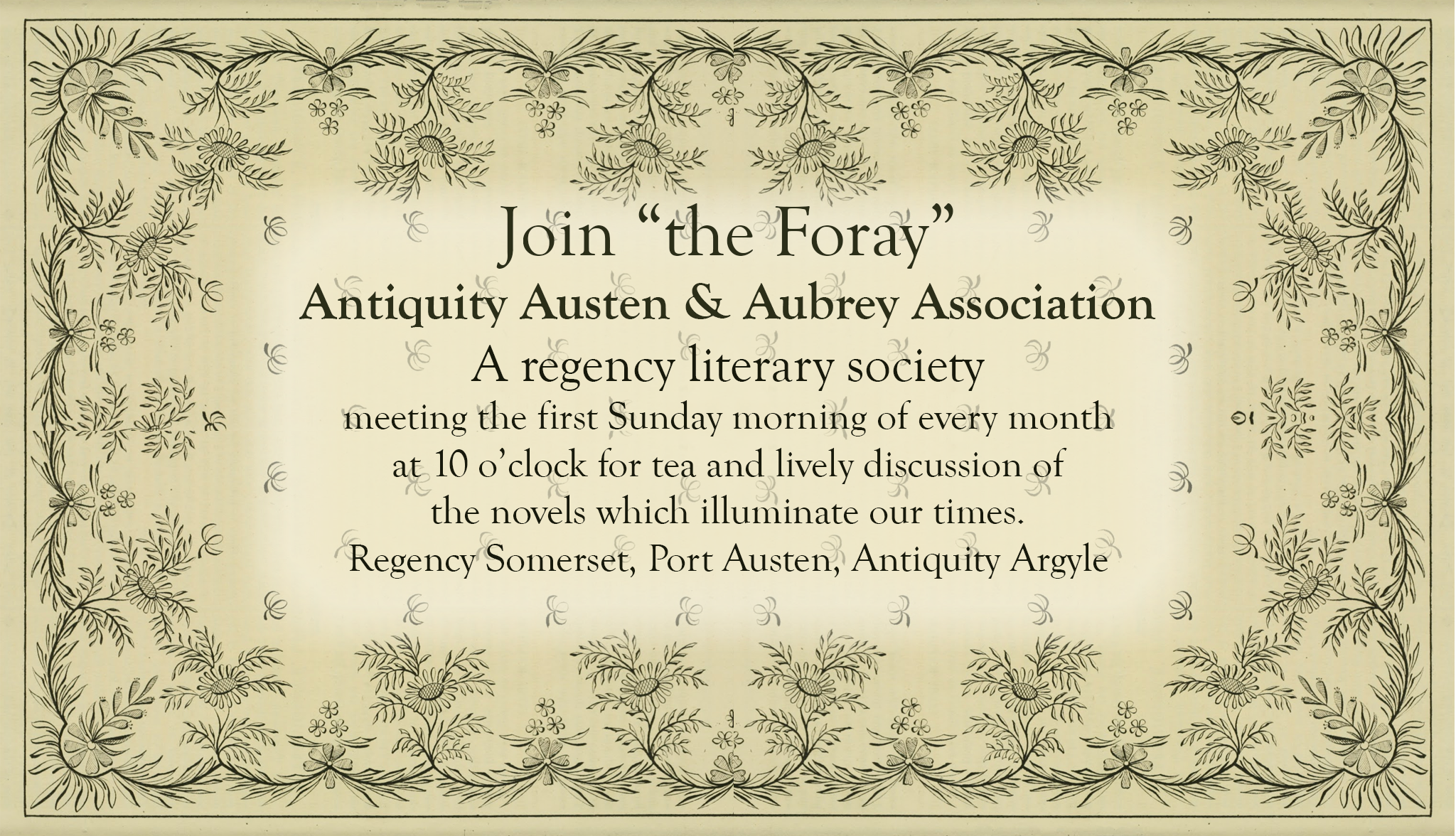 Foray 2016 10 02 first meeting report
Ten people attended the first meeting of Foray, the Antiquity Aubrey & Austen Association, a Regency era literary society, held at 10:00 a.m. SLT on Sunday 02 October 2016. All came dressed in period attire, and there were moments of light roleplay, but mostly casual planning. Our Plans:
- To have a meeting at 10:00 a.m. SLT on the first Sunday of each month in our upstairs Reading Room at the Sanditon Shops, Port Austen, Regency Somereset, Antiquity Argyle. http://maps.secondlife.com/secondlife/Antiquity%20Argyle/70/101/31
- To share recommendations and reviews of any literature written during, OR about, the Regency era.
- To choose one book per quarter as our Quarterly Read to read together and discuss at one of four special sessions per year, on the first Sundays in December, March, June and September.
- To sometimes include live readings in voice, of a short passage a couple of paragraphs from some book under discussion. All are welcome to bring readings and suggestions and to lead discussions!
- To share info about, and invitations to, Foray, with other people and groups who may be interested.
- To go as light or as in-depth as we like, reading only the Quarterly Read novel, or adding in supplementary readings, as we each individually choose.
We chose for our first Quarterly Read the popular favorite, Pride and Prejudice by Jane Austen , which is free via Project Gutenberg, linked in a bookcase on your left as you enter our Reading Room, or here: http://www.gutenberg.org/ebooks/1342
Those who wish to delve deeper may join in also reading Vindication of the Rights of Women by Mary Wollstonecraft (mother of the Frankenstein author of the same name) which youll find linked from a book on the front counter in the Reading Room, or here: http://www.gutenberg.org/ebooks/3420
Next to the volume with Vindication is another early feminist authors work, Olympe de Gouges Declaration of the Rights of Woman and the Female Citizen , written in 1791 in reaction to the French revolutionary constitution. http://sourcebooks.fordham.edu/halsall/mod/1791degouge1.asp
In addition I (Merry Chase) personally find some interesting parallels between Pride and Prejudice by Jane Austen, and Patrick OBrians Master and Commander, the first of his seafaring Aubrey and Maturin adventures, so as this is our first Quarterly Read of Foray, Im going to throw in Master and Commander by Patrick OBrian as an additional related work, and suggest that if nothing else, you read the opening where Maturin and Aubrey, future fast friends, nearly come to a duel over quiet at a concert. Im sorry that M&C is not available free, like P&P is, but you can pick up a copy used, quite cheap.

Our first Quarterly Read discussion will be led by me unless someone else steps forward and volunteers to lead it. That will be on the 4 th of December.

Next Meeting: Sunday 6 November 2016 10amSLT, for general Regency literary discussion.
updated by @merry-chase: 06 Nov 2016 12:09:31PM