Provence Coeur is moving!
The grande dame of the Duché is being reinvigorated with a new look and a new location.  After almost eleven years, the old girl is looking forward to her new connections SOUTH of Provence Coeur Est, BETWEEN Aquitaine Coeur and Provence Coeur Sud2.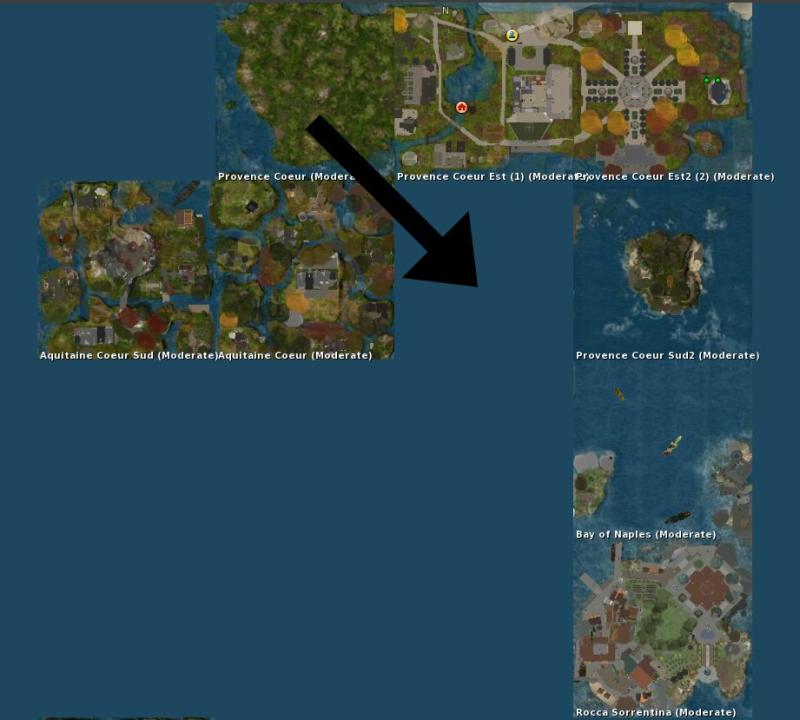 Skye and I are very excited about this change.  The Shared Seas will be expanded making the sail to Rocca Sorrentina even more of an adventure.  New carriage/road routes will be established between the Provence & Aquitaine regions strengthening the heart of the Duché de Coeur.
Best of all (from my perspective) The Queen's Hamlet will be expanded to include The Farm!  This has always been a SL dream of mine and after 10 years it's actually going to happen.  I'm really looking forward to more land for our QH Co-op roleplay.  The blacksmith shop and carpentry station will be moving in as will the QH Co-op Market.  I'm sure the goats will be happy with the extra space as well

The Provence Merchants, formerly located in Provence Coeur, have relocated to the Jardin Francais in Provence Coeur Est2.  They've been busy setting up their new shops and the area already looks fabulous.  I encourage you all to drop by and lend your support as they reestablish themselves.  Many thanks to them for their energy & enthusiasm during this transition.
Fingers crossed that LL makes the move soon.  I'm itching to get started!
--
Proprietress of Tatiana's Tea Room ~ Co-owner of the Duché de Coeur ~ Webmistress of this site

updated by @tatiana-dokuchic: 25 Sep 2018 06:22:32AM