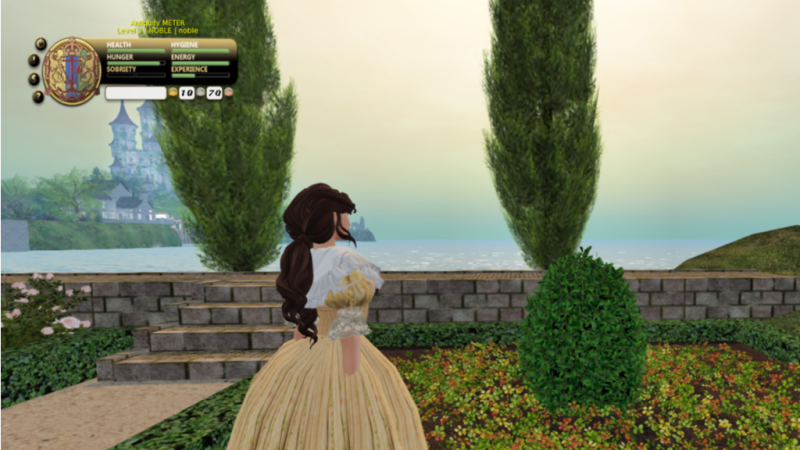 This Getting Started guide is intended as a quick introduction to the Antiquity Crafting System (ACS) for the Queen's Hamlet Co-op.  It may also be helpful for anyone starting ACS at level 1 that intends to be a farmer.
Please note that my experience is limited so my strategy is still evolving.  And speaking of evolving, ACS is in its early days and changing at a lovely pace.  This means that suggestions that work today might not work tomorrow so I'll try to keep updating as we go along
ACS is challenging!  Starting at level 1 with limited funds and resources means that you are in survival mode.  As Una pointed out, we're back to our early G&S days of eating fish in the morning, noon, and night. Thankfully with community support and an initial loan we can not only survive but thrive.
First Steps:
Check out the ACS Starter Guide

Head to the Antiquity RP Help Centre to get your HUD
Select your Class (Noble or Townsfolk)
Select your first Profession (Peasant which may give you bonus experience points (xp) and coins for farming)
Head to the Bank in Antiquity Bath to get your weekly allowance - do this every Thursday
While you're in Bath fill your pockets with any edible apples you can find - free food!
At this point you have two choices.  It is highly recommended that you sign up for a QH Job (see QH Job Offerings ) or you can decide to go it alone in which case you should 
Head to the Harvest Traders in Mont Saint Bruno (turn left at the sketchy guy standing at the corner) and purchase wheat seeds for 10c
Head to the Antiquity Public Farm and haul some water from the well
Find a vacant wheat field and plant it - it will be ready for harvest in 48 hours
If you can't find a vacant wheat field and/or you would like another wheat field head to Louis' Worker Fields

Whew! You're on your way

REVISED: May 31, 2019 with QH Job Offerings
--
Proprietress of Tatiana's Tea Room ~ Owner of the Provence Coeur Estate ~ Webmistress of this site

updated by @tatiana-dokuchic: 31 May 2019 04:31:45AM