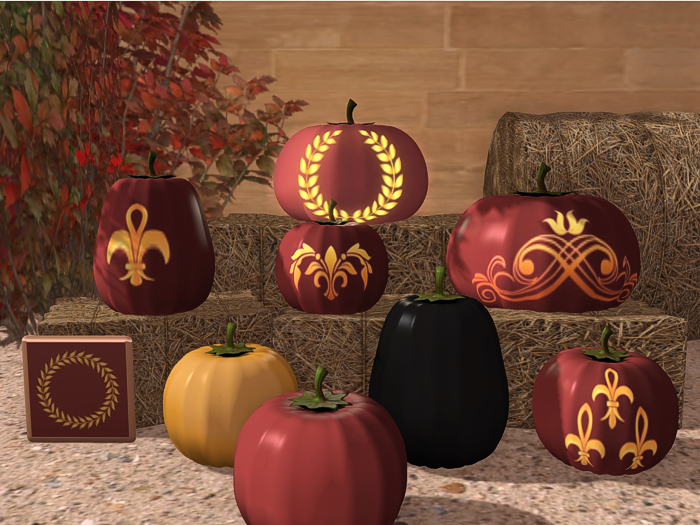 It's been ages since I released a new product but I was really inspired by the beautiful fall we're having here in Ottawa as well as in the Duch de Coeur!
Polished & gilded, this striking collection of Pumpkin Lanterns is perfect for fall decorating adding ambiance to your home, garden or even as a centrepiece for your festive holiday table. Beautifully detailed, they emit a mellow glow when lit and a lovely sheen when not. Touch the Pumpkin Lantern to select from Black, Gold, Burgundy, Burgundy w Wreath, Burgundy w Flourish, Burgundy w Scroll or Burgundy w Fleur de Lys.

Three sizes & multiple textures make for a wide variety of combinations while the low Land Impact means your arrangements don't have to be limited by prim allowances.


See them inworld: The Queen's Kitchen Garden
Full listing: Second Life Marketplace
Read the story behind these lanterns on my blog at Painting Pumpkin Lanterns at the Petit Trianon.
Happy Decorating!
--
Proprietress of Tatiana's Tea Room ~ Co-owner of the Duché de Coeur ~ Webmistress of this site

updated by @tatiana-dokuchic: 06 Oct 2016 03:04:31PM