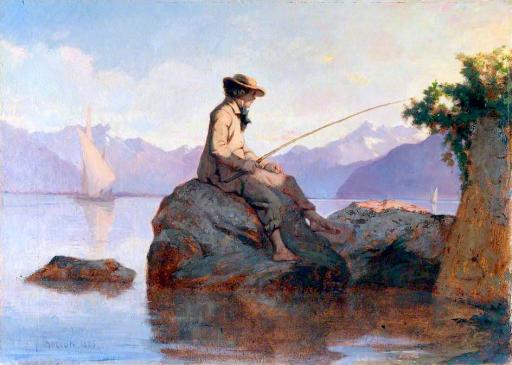 Let's put the fun back in fishing!
It's that time again!  Get out your rod & reel and head over to the nearest fishing tournament.
Our last challenge, back in November,  really was a whole lot of fun and I particularly enjoyed all the fish stories that came out of it. Please post your tuna tales again

Since the month of April is a bit short I thought we could start today (March 30th) and go until the end of April.  Rules are the same as the last round.  Selling Fresh Seafood has been updated making it easier to earn coins.
For the month of April challenge points can be accumulated as follows:
ONE point for each piece of seafood caught.  Seafood includes (Eel, Lobster, Oyster, Salmon & Seaweed)
ONE point for each kilogram of Tuna caught.
Note that no points are awarded for Fish or non-seafood items such as baskets of gold.
Example:  I spend the afternoon fishing and catch an eel, three salmon, a 5 kg Tuna, thirty fish and a secret bottle.  Total points accumulated for the afternoon is nine.
As we'll be working on the honour system, i.e. no fish inspectors will be coming by to access your catch.  please post your daily catch totals along with the monthly tally to-date here.  Stories about your fishing adventures are most welcome!
The winner will get a lovely trophy and, more important, bragging rights as "Fisher of the Month of April".
What should you do with your catch?
Honestly that's up to you but if you're looking for some ideas ...
Cook it:  Popular dishes include, Cooked Lobster, Lobster w Oysters (secret) and Sushi but there are scads of other ones.
Sell it Fresh: The QH Co-op can always use more seafood.  See QH Seafood Market  for information on selling your fresh catch.
Package it:  Seafood packing tables are readily available, and salt is now being sold in the Market to make preserving easier.
Most of all, HAVE FUN!!
Questions, comments, ideas, post them here along with your tallies & stories.
Artwork: François Bocion (1828 to 1890)
--
Proprietress of Tatiana's Tea Room ~ Owner of the Provence Coeur Estate ~ Webmistress of this site

updated by @tatiana-dokuchic: 01 Apr 2019 03:37:50PM