Greetings Everyone!
Why Auction? I have several clients who were inquiring about having individual pieces, so I thought it would be nice for a change, to shake it up! And make some unique bits.

I have several jewels lined up for my clients to choose from. I hope you all enjoy these crafted pieces, all unique. Each piece, is exclusive to the purchaser.

I understand not all the stones are to each individual person, so I can the stones can be changed to any of the following: Sapphires, Rubies, Emeralds, Diamonds, Amethyst, Peridots, Cirtine, Pink Diamonds, as well as Turquoises, Corals, and Opals.
First Come, First Serve, unless there is a large demand.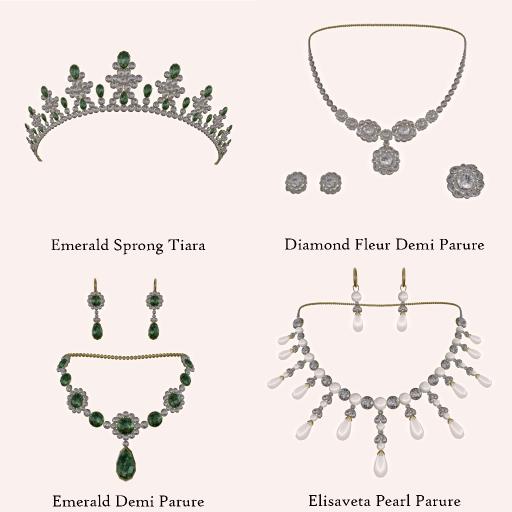 Emerald Sprong Tiara, (Comes in two parts/Attachment points)
Sold

Diamond Fleur Demi Parure, (Necklace, Earrings, Brooch)
Sold

Emerald Demi Parure, (Necklace, Earrings)
Sold
Elisaveta Pearl Parure, (Necklace, Earrings)
Sold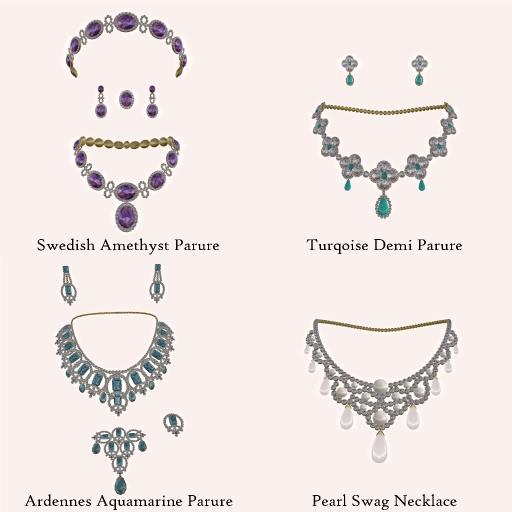 Swedish Amethyst Parure, (Tiara, Earrings, Brooch, Necklace)
Price: 1250 L$

Turqoise Demi Parure, (Necklace, Earrings)
Price: 600 L$

Ardennes Aquamarine Parure, (3 Part Necklace, Earrings, Devant Corsage, Brooch)
Price: 1600 L$

Pearl Swag Necklace, (Necklace)
Price: 500 L$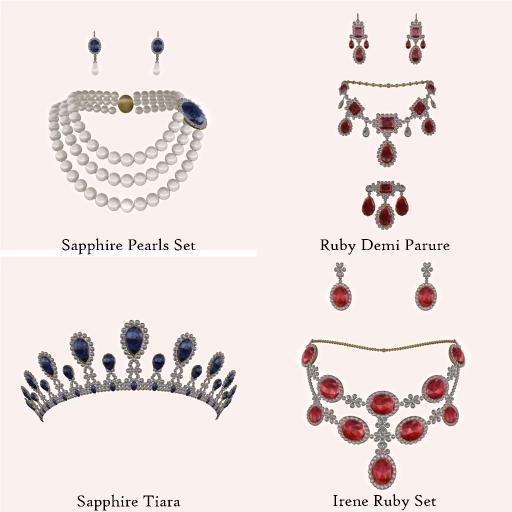 Sapphire Pearls Set, (Necklace, Earrings)
Price: Sold

Ruby Demi Parure, (Necklace, Earrings, Brooch)
Price: 1600 L$

Sapphire Tiara, (Comes in two parts/Attachment points)
Price: 600 L$

Irene Ruby Set, (Necklace, Earrings)
Price: Sold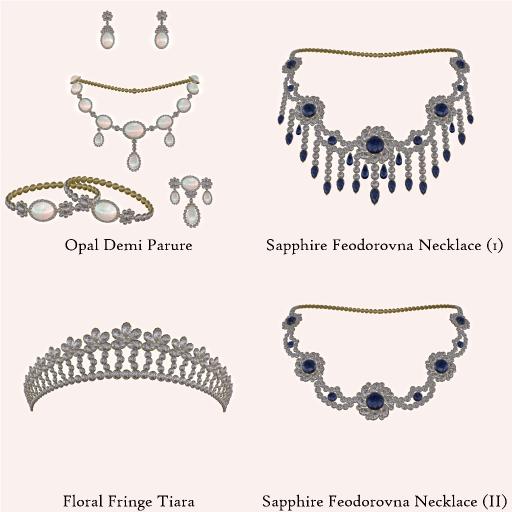 Opal Demi Parure, (Necklace, Earrings, Brooch, Bracelets)
Price: 1250 L$

Floral Fringe Tiara, (One Part)
Sold

Sapphire Feodorovna Necklace 1 and 2, (With Drops, or Without Drops)
Sold


Thank you for viewing the Catalog!

Cheers,
AndreJacquemin Resident
updated by @conte-granara: 04 Apr 2017 07:40:20PM